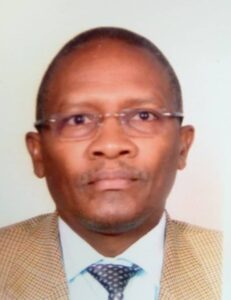 Dr. Peter Kalimba, PhD in Business Administration (DBA), born in exile in Uganda in 1959, served the military for the most part of his active life. He retired at the rank of colonel in the Rwanda Defence Force in 2016. He works as consultant and researcher in peace and conflict studies and business management and economics.

While working in the United Nations Mission in Sudan in 2007/8, he was awarded the United Nations medal in recognition of his duties in the service of peace as a military member of the United Nations Mission in Sudan.
He has authored a number of articles, including: The nexus between leadership and organizational performance (University of Kigali Scientific Journal) and, as co-author, a research paper on, Assessment of psychosocial reintegration of genocide prisoners in Rwanda: Best Practices and Barriers.

He participates and serves in community events, mainly discussions on unity and reconciliation in Rwanda and the East Africa Region.